Chungking Mansions
Hong Kong
Sometimes the compulsion to be masochistic cannot be overcome. That's the only excuse I have to explain my decision to stay the night in Chungking Mansions. I knew the guesthouses there would be bad. I was curious to know how bad.
Lonely Planet writes, "There is probably no other place in the world like Chungking Mansions, the budget accommodation ghetto of Hong Kong. It's a huge run-down high-rise...."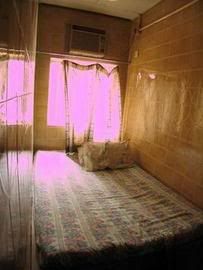 My room was like the easy-bake oven I had as a kid. Same yellow color. Same temperature inside. The room was the same width as the single bed with a creaky ceiling fan suspended above. The window looked into an alley-way seventeen floors below. If things got too bad I could jump. No bars on the big window to keep me in.
It's interesting how air won't move is a room that too small. The ceiling fan's diameter was almost the width of the room. I know the air must have been physically moving... but I couldn't feel it while lying on the bed.
THINGS TO BE GRATEFUL FOR WHEN THE SCUZZY ROOM YOU ARE STAYING IN IS TOO HOT TO SLEEP AND IT'S IMPOSSIBLE TO LEAVE TILL MORNING:

no one is trying to get in
there isn't any loud music
no rats
no roaches
no mosquitoes
no bedbugs
rain is not blowing in the window
it's cheaper than the Holiday Inn next door
only one of the locks on the door is broken
can't hear any snoring
doesn't reek of cigarette smoke
no rotten garbage funk
the prostitutes are not inside the guesthouse
ceiling fan is not broken
the building isn't on fire
I sweated the night away and moved out early this morning. No need to be a masochist two nights in a row.