Ready for Bed
New Orleans, LA
I was ready to go to bed at 4:30 in the afternoon.
My mother and I have spent the last two days in St. Bernard Parish, one of the most devastated areas in SE Louisiana. We worked with other disaster relief volunteers handing out supplies like bleach, buckets, drinking water, and toiletries. Carrying boxes containing gallons of water and bleach will wear you out.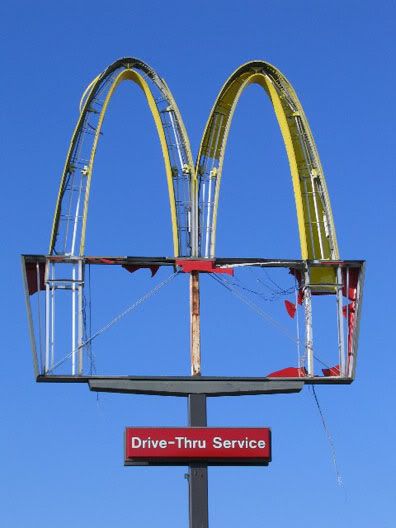 This photo is not from St. Bernard Parish. It's from a much less damaged area.
Earlier in the week my mother and I took a little drive to Terrytown in Jefferson Parish. We used to live there years and years ago. This photo is of the golden arches from the local McDonald's where I had my five-year-old birthday party. My brother had his birthday party there the year he turned three.
The memories... Dropping plastic spoons from our noses into a McDonald's drink cup to see who could get the most inside... Helium balloons tied to the backs of our swivel chairs... Shaking the bars of the rocking Grimace cage outside on the playground...
I'm guessing there won't be any more birthday parties there for quite some time.